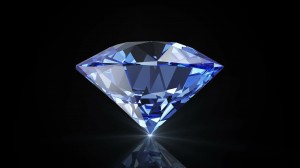 What is Transpersonal Counselling – It is a way of looking at the issues of your life at a much deeper level – to see what is beneath the pain of what ever you are encountering or experiencing in life, creating or co-creating with another, feeling victimised or enraged about. It literally means – beyond the mask – beyond the ego which is continually caught up in the world of pain and maya – illusion and drama – to see what is out of balance in your four aspects of being – physical, emotional, psychological or spiritual – that has given rise to this set of circumstances you are dealing with currently. It is a way of restoring balance at a deep level of your being so that you no longer need to present yourself with the current dilemma so peace is restored and you are feeling at peace.
What will it do for me – Working in this way leads to rapid and permanent healing of issues that may have plagued you for a long time, if not all of your life. It allows the wound that is trying to heal and is constantly knocking on the door from the inside [no matter how you see it reflected in the world] to be released and for insight to be gained – all in the space of a single session usually – and one can rapidly clear the decks of a multitude of painful approaches to life in this way. It clears anxiety, guilt, rage, powerlessness, grief and all kinds of other issues from the system – allowing for direction in life to evolve – who am I – what kind of world do I want to create – and the path before you to become illuminated.
Where is it – Operating out of Magill in Adelaide the sessions last for an hour at a time or can be done via skype or phone. The fee is $180 per session and some discounting can be arranged depending on circumstances. Clients are encouraged to bring the most painful issues first as this demonstrates the efficacy of the work and also provides breathing space while other things are figured out.
Things I find myself often repeating to my clients:
What comes out of someone else's mouth is not about you.
People do not see each other – they see a projection of the other – all the things they are yet to resolve or understand within themselves, are projected out onto the other and disliked, rejected, hated or fought about there.
We are of course all in active acts of creation and co-creation with self and others so it can be useful to hear what is being said with honour – however take out of it only what is of use to you and let the rest fall on the ground without reaction or even comment if needed. Some times we teach best by saying nothing at all remember.
When someone is pointing the finger at you and saying "You………." – simply change the word 'you' to the name of the person doing the speaking and you are quite close to what is actually being said at this point lol. Remember when one finger points out – three fingers point back – that is where the truth lies. For the person doing the talking and pointing. This applies to us as well as them – when you catch yourself doing this – stop and own it work it out for yourself and once the emotion is dissipated and the communication is open – there may not be much left to say at all lol.
How do you know when you are in a projection? If you are having an emotional reaction to what ever is going on and the communication lines have broken down – it's that simple peeps – if either of that is going on then you are caught in your own pain – step back and sort it.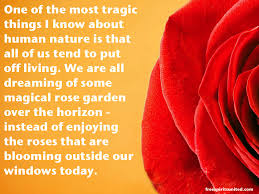 Stay in the Moment – dwell there.
This is difficult but absolutely necessary. Most people live in the past or the future. In the past anguishing about what went wrong or caught in a sub conscious wound that simply wont let go. When we do that it is a powerful entrapment for we are living and behaving as if that ancient process were still going on and if we do that – it may as well be. Patterns of wounding and pain will give you clues to when you are doing this – 'not this shit again' – type of thing. We all have them and we all recognise them however without help we are often struggling to free ourselves from them. There are many powerful tools that can immediately help with this, however as a first regard – stop and witness it. Here I am in this rubbish again!
When ever we do this we are using the past to recreate painful aspects of it, again and again in the present and we will keep doing it until it is resolved – for each of the wounds in our subconscious must heal and will continually recreate themselves in the current moment in an effort to bring them selves to conscious awareness. However each time it appears it is as painful now as when it was created and we push it away again – it is how we end up in patterns of the same shit, different day, different people, same shit. The wound constantly recreating itself and us constantly pushing it away.
Or we are dwelling in the future in the fear it is going to happen again. The 'what if……" questions [always foretelling the worst possible outcome by the way] and the predicting of negative outcomes and worrying about it all. In other words using the past to recreate the future built on unresolved or inherited wounds while bypassing the present [the only reality we have] altogether – no wonder the world is in such a mess lol.
The Voice in your Head is Not Yours.
The voice in your head – you know the one – the nasty little fucker who constantly tells you that you are hopeless, useless, incompetent or guilty – and you may as well just do the world a favour and top yourself. We all have it. We have been listening to it all our lives. The Hold Fast Tyrant! The Super Ego or the Voice of Conscience are some of its names.
It is not you – it is the voices of your parents, your siblings, care givers, teachers [ a lot of whom should never be allowed near children in my opinion] and your society and culture about what you "should" or "Should not" be doing or being in order to maintain the status quo of the power brokers in your world.
It is just that you have been listening to it for so long you think it is real and if you think that? Guess what – it may as well be as you are a creator god and you create your reality absolutely with your thoughts.
And of the 50.000 thoughts you had yesterday – 49,999 you had yesterday and the day before ad nauseum and they are not your thoughts – they were put there by other well meaning, well intentioned people who had the same thing done to them when they were small children – all completely ritualised and stupid and all completely unconscious.
The single most destructive thing you do in your life is listen to that crap and the most useful thing you can do first up is learn to delete it. There are powerful healing processes that eliminate that driver from the system however in the first place stop listening to the rubbish. There is not a word of truth in it!! Think of all the terrible things it has told you over the years – not a single one of them has come true however you have been running around your whole life as though all of it is true having a pretty miserable time of it – stop it
Just because you are Feeling something – does not mean it is Real.
Your emotional body has a conditioned response to certain stimuli – as outlined above as well as other ways – a bit like Pavlov's dog really. [google it if you don't know] So every time your partner, child, sibling, co-worker or employee behaves in a certain way and you are having a very predictable patterned reaction to that – remember what is outlined above. Most people when they feel something – usually painful, negative or overwhelming – simply believe it must be true and therefore I have to react to it – no you don't. stop – own the feeling – this is mine – breathe – ask the question – what is this about – really. Breathe it up – let yourself feel it deeply and then simply go to the terrified child within you [the one that is caught in the unresolved wound] that is feeling this and simply reassure them that a] this is not happening any more and b] you are there to ensure it never happens again.
While you are in the world of pain and observing it you can acknowledge the emotional body for a moment – put it outside of yourself for a bit and say to yourself – "well that is what my emotional body is feeling about this situation now – what does the rest of me want to do. Step back and breathe – look at your projections or unresolved pain and do something about it – unless you want to take this garbage to the grave – and worse – into the next life or ten lol.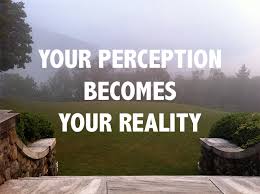 It is not what Happens to You that causes Pain – It is How you Perceive it. Most of the events in our lives that cause pain and ongoing suffering in our current existence, are perceived through the eyes of fear and pain and so when ever we get any kind of tweak that reminds us of that event [consciously or unconsciously] so does the pain and fear get tweaked along with it.
This will continue absolutely until the fear and pain are resolved and that can happen permanently in the space of one hour. Yes it can. There are simple and powerful tools to move the pain and allow for a shift of perception from fear to love.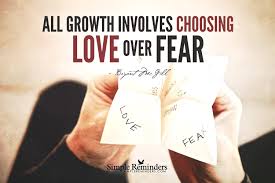 There are only two emotions – love and fear.
Fear comes in many disguises – hate, greed, envy, jealousy etc however it is all fear. However there are only two emotions and each of these has a magnetic pull to them. [the work of Buckminster Fuller and Dan Winter is interesting to look at – sacred geometry and heart math]
We are indeed creator god's who create with our thoughts and most people are constantly preoccupied by what is not working for them – so guess what they are constantly creating over and over again – more of that which is not working for them – magnetically drawing it in until we learn not to be afraid of it for that is how the universe teaches us that some of our patterns are not useful – when the boredom with the pain outweighs the pain itself the situation will resolve. when we look at the situations we are in through the eyes of fear that is the reality we create for ourselves. When we look at the situations of our lives through the eyes of love – that is the reality we create for ourselves – your choice – each moment – what will you choose – love or fear.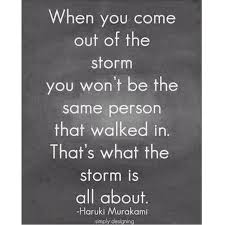 You are never given anything that you cannot handle.
This is despite every thing the lunatic in your head will tell you to the contrary – remember we discussed aspects of the voices before. The conscious mind is a seriously disturbed unit. It was given far too much responsibility in the west, where we made it god king – a job it simply is not equipped for.
The whole being must make decisions really – however we are cut off from our emotions so they don't get a look in, we despise our physical bodies predominately as too old, too fat, too ugly, too skinny or whatever else the mind tells us is wrong so we don't listen to it – despite the fact that every atom in your body was once a star and remembers everything it has every done or been – they are connected to everything and know what the weather in Africa is doing but we have so learned not to listen to it either.
And as for the soul's musings – start listening to that and the main stream medical model wants to medicate it into submission. We must reconnect with the whole – allow the feeling mind to be guided by the thinking heart – allow the whole being to move us and then we know absolutely that what ever challenge we have created or co-created in our lives – that all answers to that challenge lie within the challenge itself – that is what it is to be human.
But when we let the mind rule – to attempt a job it is not equipped for – then it becomes paranoid and over zealous and becomes a poisoned chalice – filling us with fear and dismay. All suffering comes from the mind. Take charge of it – stop listening to its insane mutterings and get rid of the distortions and lies and let it go back to what it was created for – logic and reason – to guide and support the souls journey. The four bodies – emotional, physical, psychological and spiritual must all work in unison for us to move in the direction of our responsibility – to respond to what makes our heart sing.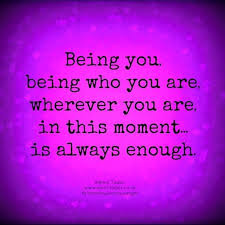 You Always Have Been, Are and always Will Be – Enough.
The great terror in all of us is that who we are is not enough – a message that has been reinforced to you throughout your childhood by constraints and script messages placed on you that tell you not to be you – to be what your parents and society need you to be in order for all of them to feel good enough as parents and to maintain control.
This has become so seriously screwed up now that we are carrying generations of fear, war, horror and what ever else your genetic line is carrying and that you will willingly unconsciously shoulder, out of a deep love for your tribe – and that will stalk you throughout your days as you attempt to wrestle your way through the nightmare.
Each infant is born perfectly into a world that is ready for it, into the arms of the person contracted to bring them into the world – however the pain is so great that is being carried around that the mother and father feel inadequate, overwhelmed and unable to instinctively do what they are born to do because of all this garbage – it is then fed into the next generation obliging them to do the same.
Each generation of children is the most advanced of the species – this is logical as each infant takes all of its' mothers' blood line knowledge and all of its' fathers' blood line of knowledge and takes them forward – however we are so busy controlling and containing children – putting them into the same little box that we were put into as children that we rarely stop and receive the wisdom on offer. Why do you think old people and kids get along so well? Because old people are remembering and working out what they knew instinctively when they were children – before it was pummelled out of them.
Remember who you are – get up off your knees and unshackle yourself – anything less is unworthy of the great soul that you are.
There are wonderful techniques now available for pregnant mothers that allow this to happen in utero – where the mother loses her fear of childbirth [a race memory carried by all women understandably] and releases the baby in the womb of all the inherited fear in the process.
No one 'Makes' you Feel Anything
We live in a world that is so dysfunctional emotionally we are literally drowning in misperception about what is real. It is quite simple really – if you are feeling something it is because it is internally generated. No one makes you feel anything – ever. You may be programmed or conditioned to have certain emotional responses in certain situations however they are still your responses and your responsibility to deal with them.
The minute you say to some one "You make me angry" – you have just given all your power to them for if they are doing it to you then they are the only ones who can change it. Much better to say "When you do that – I feel angry" for then you are feeling it, it is in your control and you can change it when you are ready.
Conversely the opposite is true. Do not let other people load you up with the responsibility for their emotions in the same way. When some one says to you "You make me angry" – simply say to them – "Actually I am not that powerful – if you are feeling angry at anything I am doing that is your choice and your responsibility and you need to deal with it because I have enough shit of my own to deal with thank you very much"
It does not mean things cannot be discussed – it just means things can be discussed without projection and hooks being brought into the process.
These programmed emotional responses by the way can be removed very easily and it really does make day to day communications with your nearest and dearest much easier to manage and facilitates peace.
You can Trust the Love of a Human however you Cannot trust their Pain.
The love that exists in humans is very powerful and very real and it will stand by and support you in all things. What you cannot trust in your parents, your partner, your work colleagues or others is their pain.
That pain will sacrifice the very life of a child in order to protect itself and that says a great deal about the pain in the other and nothing at all about you. People really do terrible things to each other to protect the internal wounds – it is sometimes impossible to imagine the kind of pain that is going on in someone that would have them be cruel to an animal or a child – and your inability to imagine what kind of pain could do that, gives you some insight into just how huge that pain might be.
This is not to offer excuses for such things – only understanding. As the great Philosopher Terrence said, "Let nothing that is human be foreign to me" – meaning there but for the grace of god go anyone of us for each of us is fighting the same great battle between the polarities inside. And if we were raised in a different family with different outcomes we would be as capable of anyone else of horrific things – don't kid your self to the contrary. Every time you are judging something in some one else – taking the moral high ground or looking down your nose at someone – it is just the story you were given as a child about what you were or were not allowed to be and so you bury that deep inside – reject it, project it and judge it as less than – in the other. Beware of such hubris dear ones for it is always – without fail – followed by nemesis.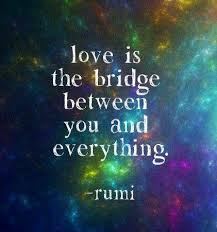 Love is the only thing that is Real
Coming back to the two emotions – it is true that the only one of them that is real is love. Everything else in the universe – even death – is an illusion created for the experience of it – for the sake of compassion. Each is a step back to the source from which we came and the only way home is through love. Letting go of our minds determined beliefs, its ability to pick the scabs and ruminate over past injustices, future fears – seems so real that we live it as though it is and while we are believing it – it is. That simple really.
However when you begin to see that there are parallel streams running with you all the time with different possibilities, different beliefs and different outcomes – then you are free to manifest a different reality, built in love and not fear.
Unpacking some of the pain can be a life time journey because of all the successive lifetimes and genetic lines of wounding – however it can be done and it behoves you to move in that direction for that is what you are here for.
Do not doubt the perfectness of your being here – no matter how wretched it may seem. Remember you are a spiritual being having a human experience and only humans judge – we create the gods in our own image – not the other way around and when you perceive that – suddenly a lot of the mad gods we have created begin to make sense. We made the devil in same way – we are not yet grown up enough to own our own divinity or own our self created demons so we build a god and a devil and make them responsible – see how pervasive it all is?
If you are going to be free then that requires you to take responsibility for all that you have been in, done, think, feel, say and do and the only way you can do that is by developing self love and self compassion for all that you are – which is a divine note in a divine symphony that would not be the same without you. You matter a great deal more than you realise.
There are billions of entities lined up to be here at the moment – why else do you think there are so many humans currently – more than at any other time in human history [which goes back a damn sight longer than you are currently told lol] – they are all here to experience the evolutionary shift – not a physical shift but a shift in consciousness.
You made it to this planet – many will not – so trust that you are exactly where you are meant to be doing exactly what you are meant to be doing – otherwise you would be somewhere else doing something else – trust me.
So if you wish to experience counselling – therapy of a different kind, steeped in a back ground of 30 years in mental health, deep immersion in transpersonal techniques and shamanic practice, art therapy and energetic paradigms then contact Prue and begin the journey towards authenticity.
She can be reached at prue.blackmore@thrivebydesign.com.au