New Moon in Cancer July 4th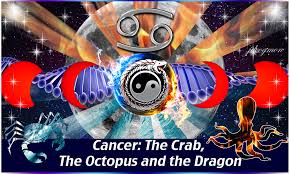 Emotions are the engine room of your creative being. Cancer is all about the fundamental reality of this. It seeks the higher path – to care for, to love, to nuture – to learn to detach with loving kindness and to trust the world you are creating – that it is here to grow you.
The soul uses intensity of feeling to grow itself – it genuinely does not mind if it is painful intensity or joyful intensity – those choices are yours – however conscious control of your thoughts – genuine responsibility for the consequences of that – begins the change process and Cancer encourages it. The wounds of your lineage, karma and childhood programming are amenable to change – how you go about it is up to you. Who are you without your pain?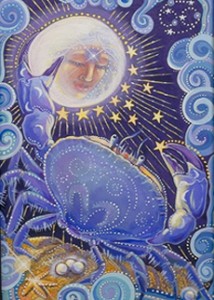 The beautiful New Moon in Cancer – offering such new beginnings – falls at 8.30pm on July 4th here in Radelaide. The sign of the Madre – Gaia personified – the awakening feminine – here is a time to set your course for the year ahead with issues of family, love, letting go, adult relationships with all that you encounter. The Moon – the primal fecund feminine darkness and all she brings. The womb – the void – the rising of the Self.
There is a lot about security, financial where withal, housing and safe supportive families in this transit. The recent Solstice energies have brought massive changes and great unsettlement – this is going to continue. This time of the New Moon is a time to midwife your own new self – unshackled from the old terrified worn out programmes that fear the feminine essence – that mindlessly crush any manifestation of it in the fear of the mystery.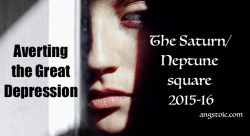 The New Moon in Cancer continues to be dominated by the great Saturn – Neptune Square – the great depression. Over the next month issues of paranoia, fear and intolerance, illusion and delusion will continue unabated and expect to see much more of this on the global stage – the recent brexit phenomena is a reflection of this – the fear of the other and what they may do to us. The energies the Sun trining Neptune really will allow us to see the grandiose absurdity of our existence for what it is – if we are ready – or have us sucked into the phantasmogorical madness of it all – all over again – your choice which path you take really.
Those who struggle with alcohol or recreational drugs at this time will find that struggle more intense at this time and if they slip into it will find it harder to break free again. However for those who use these energies for their spiritual remembrance – it is a moon from heaven indeed for you.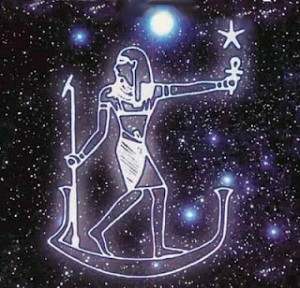 It's alignments with Sirius during the New Moon however will give you the tools and awareness to resolve an area of your story that has for a long time filled you with anxiety, guilt, disappointment and inadequacy for a long time – again particularly around relationships and family of origin issues. Sirius is associated with Isis – who returned Osiris from the dead and there is a possibility that something you thought was completely insurmountable can be resolved – have new life breathed into it – it is a tumultuous time though – feared omen of dark days from the ancient world.
It is a somewhat intense energy [just for something completely different] however its triangulated aspects including Mercury – facilitates thesis, anti-thesis and syntheses evolving from the pain we have recently been through with the grand cross activation at the last new moon in Gemini.
This Moon's alignments ensure a problem that has regularly felled you [not this again] may well hit hard during this transit – as previous attempts to get you to address it have so far not worked. The universe in it's wisdom will keep offering things to you until you work it out and each time you put this away – it is a bit like our monetary system – it accumulates a little bit of interest each time – until there is no avoiding it. This is one of those times.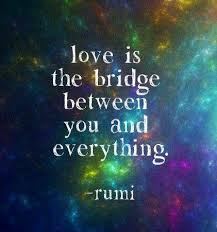 What old crutches have you been falling back on that no longer work, what victim consciousness holds you prisoner to not becoming who you were born to be, what addiction of substance, emotion, or self deprecation do you indulge in to pretend it is all ok – when the great Goddess is demanding you rise and say enough – to yourself first and foremost.
This Moon offers much to help you – creativity is open here – utilise it – use simple art to dialogue with that within that is trying to emerge from a long forgotten cocoon – pay attention to your intuition – strong during this transit – any new connections you make now may have a karmic resolution to them.
Mercury's trining Neptune will allow you to clearly see the solutions for the synthesis you are moving towards – to help you awaken and transform yourself from the imposed slumber humanity has been ground down under for the last 13,000 year sleeping masculine yuga.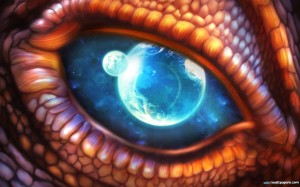 What ever is here has held you for a long time – it reflects the whole persona and how it relates to your life – it will appear in many facets of your life – like an old and anxiety provoking friend – that regularly turns up when you least desire or expect it. You will be given an opportunity to resolve it at this moon.
As Jupiter, the North Node, and the Saturn –Neptune reality are all in mutable signs currently it means we can waver and be distracted from what is here to be resolved and at worst can bring out elements of nasty trixterish energies around you. Hold the dream and focus and this Moon could also bring lasting transformation of a very old way of being.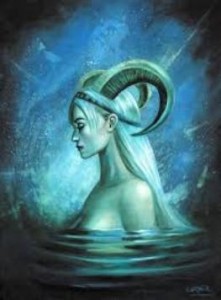 Then on the 19th we will have the Full Moon in Capricorn – Cancers opposite sign – and reach the end of the cardinal T-square. This Moon will bring things to a head that are displayed at the new moon however it will also bring new and innovative ways to deal with entrenched issues with courage and calm confidence – more on that later.
If you wish to attend the Meditation to work with these energies to facilitate change and transformation – contact Prue on 0419819089 – to book a place xx